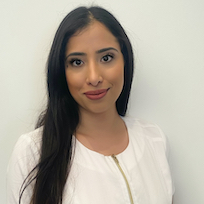 Sonia Manku
@ Behrens Dental Practice
Profile
I am  a gentle and caring clinician who strives to provide an unmatched experience for our patients.
I obtained my Diploma in Dental Hygiene and Therapy from King's College Hospital, and having spent a number of years within different areas of the dental field, I have found my passion in providing high quality and tailored treatments. I do not believe in a "one size fits all approach".
I enjoy managing and treating complex periodontal cases and take great pride in motivating patients as well as helping them to regain confidence. For patients to leave the appointment with a smile, makes me smile.