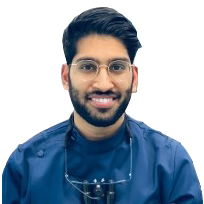 Dr. Deepak Aulak, Cosmetic Dentist
About Dr.Deepak Aulak, Cosmetic Dentist
@ Behrens Dental Practice
Profile
Dr. Deepak Aulak is a multi-award winning dentist, with a special interest in cosmetic dentistry.
Having graduated as the valedictorian student from King's College London in Dentistry, Dr. Aulak was decorated with over a dozen awards and scholarships along the way which notably include the Jelf Medal and Malleson Prize for research. Recently he was awarded the Highly Commended prize by the Private Dentistry Awards.
Dr. Aulak has had his work published in various international publications and conferences and has also represented different organisations at an international level. He has held an array of positions from being President of the biggest dental student society in Europe, to sitting on different committees as an advisor and member.
General Dentist Council Number: 264962