Full Porcelain Crowns & Bridges
For a complete Smile Makeover or just to maintain and fix only a few teeth,
at The Behrens Dental Practice are well trained and experienced and make this transformation for you as smooth as possible. Whether it is a full Smile Makeover or just a repair of a single tooth with a crown,  we use the latest technology for full porcelain crowns and bridges.
We use an intraoral scanner called iTero®. It creates a 3D image of your teeth and your moulds will be 3D printed in the dental lab.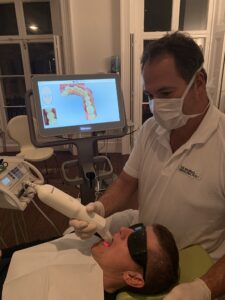 Working like this allows for maximum comfort and highest precision resulting on a beautiful long lasting result.
Together with our talented technician, we achieve wonderful results and are able to replicate natural teeth.
Whether you have lost a major part of you tooth, or you simply want to improve the look of your smile, with our full porcelain zirkonia crowns we achieve a wonderful result, which allows you to smile and eat with confidence.
Like our crowns, our bridges are made with high precision, to ensure a long durability and aesthetic perfection.
Bridges are used in case you have lost a tooth to close the gap, which is an alternative to a dental implant.
All treatments are done under a microscope to achieve maximum precision and results.
Whether you have broken a tooth or you would like to know more about how to create a beautiful smile please
book online to contact us or call 0207 584 8810