"All -on-4″ Treatment
We Can Replace Your Teeth in Just One Day.
Why Choose "All-on-4″?
There are a number of reasons that "All –on-4″ implants are different to traditional solutions.
With All-on-4 we can often replace teeth in just one day
This treatment will suit you if you are wearing a denture but would prefer to have fixed teeth
If you have been diagnosed with severe gum disease and you are due to lose all of your teeth and would like to replace them all in one day.
Key Benefits of "All-on-4″
You will have fixed, beautiful teeth to replace your loose teeth or dentures
All-on-4 implants will restore oral functionality, meaning you'll be able to eat and speak normally
Recovery is speedy
Having All-on-4 implants will reduce further jawbone deterioration
You can eat and chew whatever you want
Bone-grafting is often not needed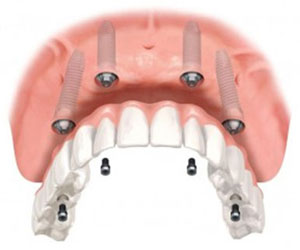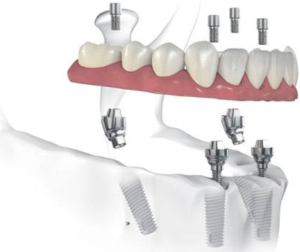 How Does All-on-4 Work?
There are several steps to the procedure:
Initially, we will carry out the CT scan and/or an X-Ray to assess the current state of your jawbone and ensure you are a suitable candidate
Any badly damaged or decayed teeth will be extracted
You'll be given a local anaesthetic and sedation and small incisions will be made in your gums and Dr. Behrens will place 4-6 implants into the jaw bone
Over time, these implants will fuse with your bone
A temporary bridge is fitted the same day
You then return for the permanent prosthetic teeth to be fitted 6 months later
In the lower jaw, the bridge would be placed on 4 implants. In the upper jaw, the bridge would be placed on 6 implants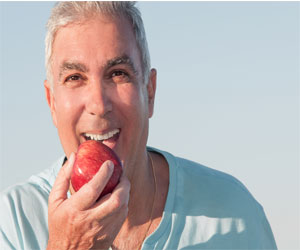 Replacing All Teeth or and Existing Denture
We recommend "All-on-4" as we believe it is the best approach to replacing existing dentures.
"All-on-4" means all teeth are fitted on 4-6 implants in a single day.
This is an increasingly popular treatment among our patients which offers life-changing treatment at an affordable price. "All-on-4" allows us to take patients with failing teeth or full dentures, into fixed, natural looking teeth in a single day.
This technique has enabled patients with loose teeth or dentures to have a reliable fixed alternative to restore their self-confidence when smiling, talking and eating. For some patients, it has given them a new outlook on life without the disability of tooth loss. All the patients we have treated with this technique have been delighted that they chose this treatment option.
Contact Us Now to Book a Consultation on 0207 584 8810