Root Canal Treatment – Endodontics
Dr Duncan Grant has a special interest in Endodontics, popularly known as Root Canal Therapy and aims to save teeth that would otherwise risk being lost.
At The Behrens Dental Practice, we have many years of experience in modern endodontic treatment.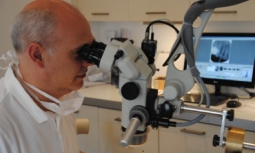 Firstly, Dr. Duncan Grant will relieve you from any pain before carefully preserving your tooth with a Root Canal filling.
Our digital x-ray equipment, together with the use of the highly powered microscope, makes it is possible to find even the smallest canal. Using the latest endodontic equipment and Dr Grant's experience ensures that we achieve the best possible and long lasting result. Dr Grant has been in a team with Dr Behrens for over a decade.
Click here to contact us or call us on 0207 584 8810