Corona Virus, April 1st 2020
We are open on a reduced schedule for emergency treatments with some adaptations to keep everybody safe.
You can book your emergency appointment online or call us 02075848810
We plan to re open to full capacity on Tuesday 14th April.
Our endeavour is to create a Corona Virus Free Zone for our patients and staff and providing an extreme clinically clean environment, so you can be sure to be in a safe place at The Behrens Dental Practice.
I want to let you know that we are here for you to ensure your dental health and well-being.
Keeping you safe
Keeping us safe
Every patient is confirming via text before entering the practice, that they have no Covid-19 related symptoms or corona virus contacts.
Staff do not have Covid-19 related symptoms.
Only one patient is allowed into the practice at a time
Following the strictest cross infection rules
We are trained by default to work this way, so you and our team are not at risk.
I truly hope you and your family are well in these uncertain times
Let's all get through this safely.
Ole Behrens
Opening Hours
Monday: 10:00am – 16:00pm
Tuesday: 10:00am – 16:00pm
Wednesday: 10:00am -16:00pm
Thursday: 10:00am – 16:00pm
Friday: 10:00am – 16:00pm
Saturday: Closed
Sunday: Closed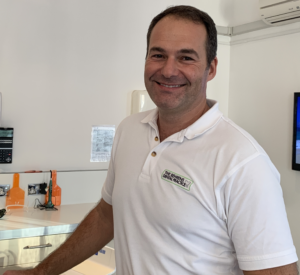 About Us & What We Do
Building on three generations of dentists in the family, Dr Ole Behrens now continues his commitment to provide the highest quality of dentistry to his clients, from The Behrens Dental Practice in South Kensington. There's no better place to receive leading-edge dentistry and a beautiful smile.
6 Reasons to Choose The Behrens Dental Practice
Precision
High powered microscopes allow us to detect, diagnose and treat with exceptional precision over the human eye alone, so you can enjoy thorough cleanings, earlier detection and easier fixes.
Skilled
Ole Behrens is a highly-sought 3rd generation dentist with a PHD in Maxillo Facial Surgery and is an assistant professor in Prosthetics. Take confidence in Dr. Behrens' many years of training and experience.
All-in-one
From cleanings to jaw reconstruction, we provide you with all the dental specialists you may need, so you receive superior treatment and a perfect smile without any delays.
Clean
Take comfort in our obsession over hygiene and the newest high-pressure vacuum sterilisation equipment to eliminate cross-contamination.
Core Values
We spend time with our patients
We educate our patients
We are honest
We listen
We ensure the best dentistry when visiting us
Pleasant
Our beautiful Georgian house grounds, delightful staff and calming atmosphere provide a relaxing dental experience matched with comfortable treatments to minimize pain.
Meet Our Team
The Team At The Behrens Dental Practice
Testimonials & Clients
Read Testimonial's From Our Actual Client's.
This guy is fantastic. OK – so there is nothing pleasant or dignified about dental treatments but Dr. Behrens makes it as painless and relaxed as possible. The practice is bright, clean, and equipped with state-of-the-art technology. They always run on time and the treatments never feel rushed. The team is friendly and competent.
Ralf Graeser Knightsbridge London
Dr. Behrens & his team have the extraordinary ability to make even a visit to the dentist a pleasurable experience. His competence & knowledge have always been paired with sophistication, which is now also reflected in his elegant new premises. It is a true pleasure visiting the Behrens Dental Practice.